BLACK ORCHID STRINGBAND
Rose is a supporter of freedom and independence in West Papua and plays in Melbourne with the Black Orchid Stringband. Lots of ukulele, guitars, drums and big three three part harmony. The band's first album was recently released in July 2017 at the Melba Speigel Tent in Melbourne (photo below). Black Orchid Stringband Facebook page HERE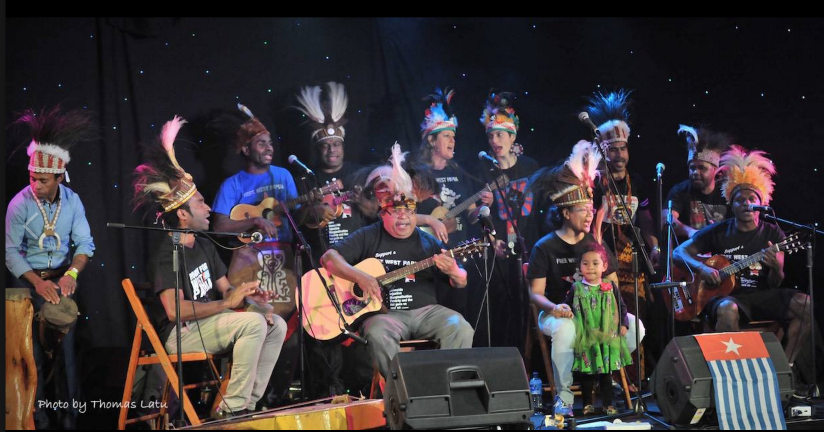 MUSIC FOR THEATRE
Rose has been writing and performing music for theatre shows on and off since 1991 when she was a member of notorious Sydney performance group The Post Arrivalists (1991-96).
She has composed and performed music for companies including Urban Theatre Projects, Erth and Australian Theatre of the Deaf (Sydney), Merrigong Theatre (Wollongong), Sisters Grimm (Melbourne) and Salamanca Theatre Co (now Tasmanian Theatre Company) in Hobart. She also performed live music and sound effects for Darren Gilshenan in his solo Shakespeare clown piece, Fools Island. This was produced by Tamarama Rock Surfers and performed at the Sydney Theatre Company (2012).

She recently did sound design for 'Each Map of Scars' by Rachael Guy, Andy Jackson and Leonie van Eyk for the Castlemaine State Festival (2017).
In Europe, Rose lived and worked with Antagon Aktion Theater in Frankfurt for six months with her band Spookyloop composing music for shows (1996). She also worked in Belgium with Antwerp/Sydney group Branch Nebula (2000).
THE NIGHT BEFORE TOMORROW
The Night Before Tomorrow is a punk/pop band who never takes themselves too seriously. The band came out of Rose's work at Milparinka Disability Service and perform their original songs around Melbourne at festivals and pubs as well as unconventional venues (laundrymat, mechanic's garage, swimming pool). More info at: www.thenightbeforetomorrow.com