Rose regularly runs workshops in songwriting & ukulele.
Get in touch if you'd like Rose to come and teach a workshop in your neighbourhood. This could be at a festival, for a ukulele club or a group of friends in someone's living room. Email: roseturtle@gmail.com
SONG WRITING WORKSHOPS
Invites beginners or experienced songwriters to spend a couple of hours diving deep into different song writing techniques. Rose aims to encourage people to consider the endless possibilities when creating lyrics, melodies and song structures while thinking about the mood and dynamics of a song.
UKULELE WORKSHOPS / FUN ARRANGEMENTS / ADVANCED STRUMMING Rose has been playing ukulele for over twenty years and has taught numerous workshops often to community ukulele clubs all over Australia. She is interested in teaching people to play thoughtfully - to consider how every strum is strummed, rather than just bashing out a tune as fast as possible!
COMPLETE BEGINNERS: The absolute basics! - how to hold the uke, tuning, a few chords and some simple strumming patterns. This is designed to start you off with good habits as your begin a new relationship with your little instrument. Welcome to the ukulele community!
FUN ARRANGEMENTS FOR GROUPS: Simple arrangements of songs to encourage people to listen to the whole group while playing 'thoughtfully' and with dynamics. People will learn simple strumming and picking patterns and discover lots about the capabilities of the ukulele. Songs may include originals written by Rose, easy covers or requested songs from a group's repertoire.
ADVANCED STRUMMING: Fancy strums! such as the classic triplet strum and old-timey picking/strumming patterns based on banjo clawhammer style. This is for players who can already play a few chords and do basic strumming.
SCHIZY INC Songwriting workshop - MELBOURNE 2022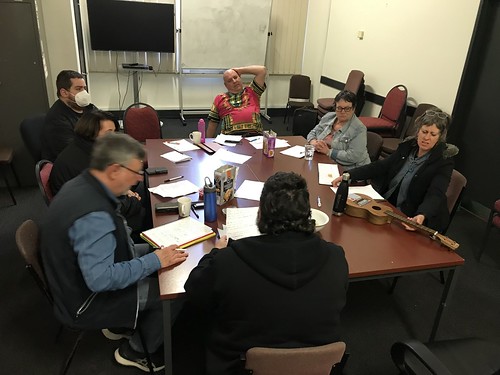 SONGWRITERS' CIRCLES 2023 - NORTHERN TAS
Rose runs regular events for local songwriters at her home studio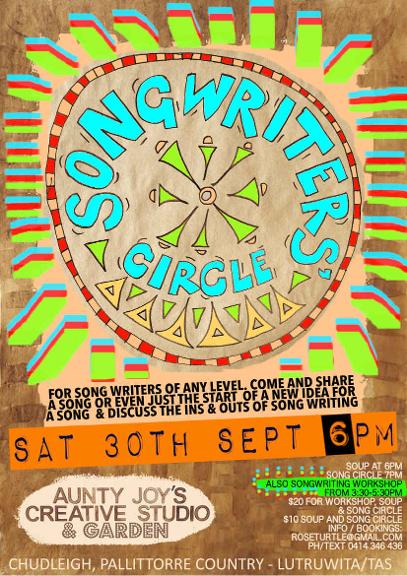 QUEENSCLIFF UKULELE GROUP - VIC 2023
Teaching new arrangements for some singalong songs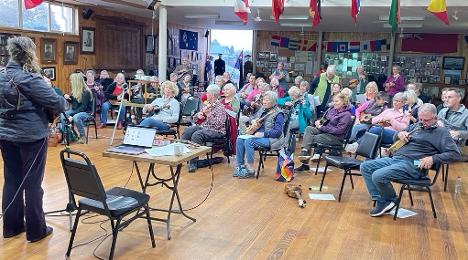 TURRAMURRA MUSIC CAMP - VIC 2023
Teaching an original instrumental uke piece to perform at a concert that night