_______________________________________________________________________________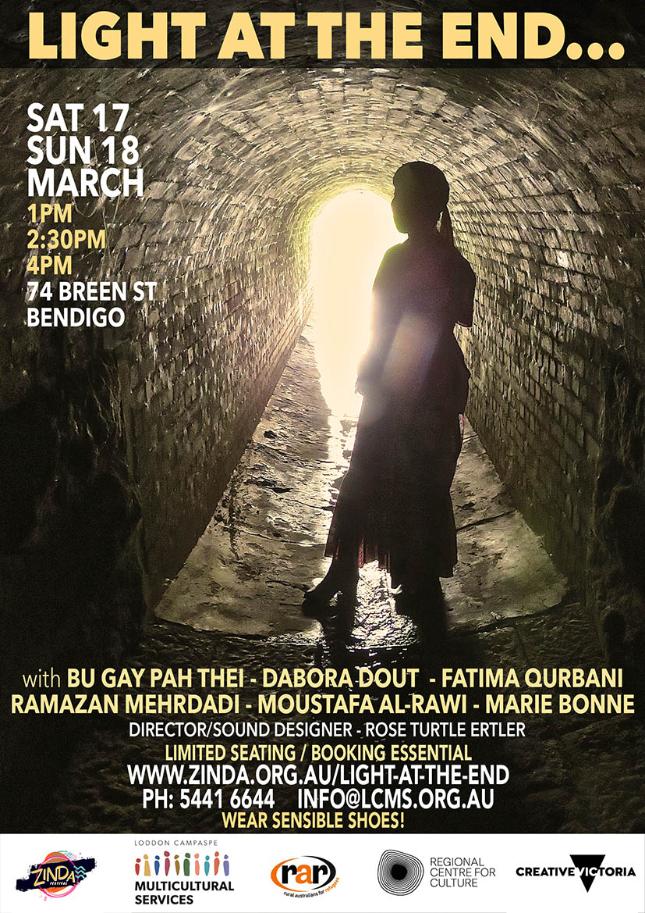 _______________________________________________________________________________
Light At The End... presents a genuine insight into humanity through a mesmerising and celebratory performance.
In the dark, dank and raw theatre space of an old tunnel under a train line, stories of light and strength
are revealed by the performers - five local refugees and one advocate.
Light At The End... is designed to be replicated in different towns,
each time with a different cast of local people who have made Australia their new home.
It was first performed in Ballarat in 2016 in collaboration
with Rural Australians for Refugees and commissioned by the 24 Hour Experience.
In 2017, a Castlemaine version was produced for the Castlemaine State Festival.
In 2018, a Bendigo version is about to be performed as part of the Zinda Festival.
This is in collaboration with Loddon Campaspe Multicultural Services
and is a Regional Centre for Culture event.
Bookings here: www.zinda.org.au/light-at-the-end
_______________________________________________________________________________