"Whispering to trees is like speaking another language.
In that language the quiet, stillness and intangible connection of being is written as Love." Samantha Bews (contributor)

"Dear Tree" is a listening experience - a collection of people's responses to trees, acknowledging and contemplating the position of nature within our lives. Originally designed to be enjoyed by groups at festivals while lying under a tree and listening in headphones, this project has now been adapted for these pandemic times.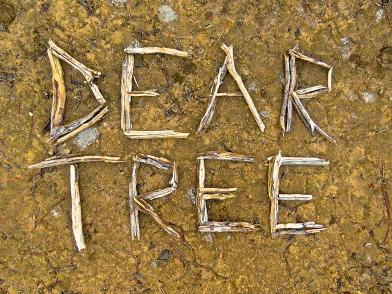 Short spoken word pieces starting with the words "Dear Tree".
This project relies on audio contributions from the public. All recordings received will be thoughtfully woven
with field recordings of nature settings
to create calm, delicate listening experiences.
Designed to be heard in headphones
while lying under a favourite tree.
I AM CURRENTLY COLLECTING RECORDINGS FROM PEOPLE IN THE PENRITH AREA AS PART OF 'MAGNETIC PLACES - PENRITH COUNCIL'.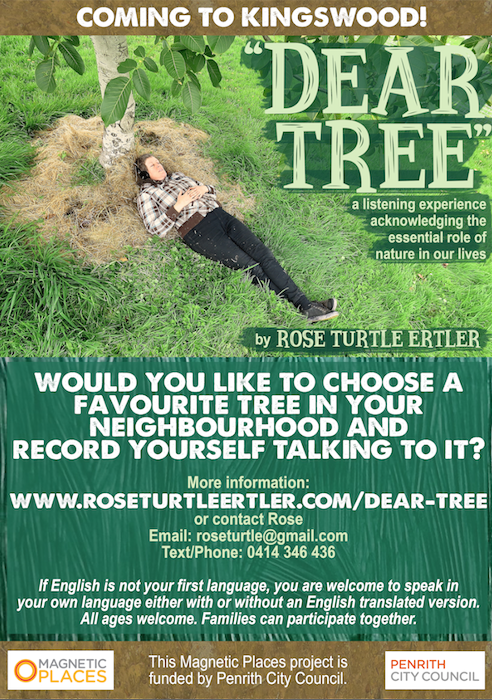 STEP 1: Go outside to a tree (in your backyard or beyond).*
STEP 2: Lie under the tree friend, looking up (or sitting with a view of the tree is also fine)
STEP 3: Press record on your phone or recording device
STEP 4:
Starting with the words "Dear tree" record a short piece of anything you would like to say to the tree…
anything about what you are seeing, feeling, hearing, experiencing in this moment with the tree. Try to speak clearly.
Recordings should be maximum 30 secs.

STEP 5: Listen back to the recording to check that all words are easily audible

STEP 6: Send your recording to: roseturtle@gmail.com or through Messenger: Rose Turtle Ertler

If English is not your first language, you are welcome to speak in your own language either with or without an English translated version.
All contributors will be notified when the final audio creations are freely available online.
(
*If you have no trees in the environment around you, just imagine a tree you have previously met.)
LISTEN TO THE FIRST "DEAR TREE" SOUNDTRACK (APRIL 2020) BY CLICKING ON THE ORANGE PLAY BUTTON BELOW

"Dear Tree" is dedicated to all the trees I have ever known and celebrates the importance and essential role of nature in our lives. This project is inspired by many things around me including the City of Melbourne's "Urban Forest Visual project" in 2013
which gave over 6,000 trees in the CBD individual IDs and email address inviting people to report any damage or problem.
But instead, people took this as an opportunity to write emails directly to the trees, resulting in thousands of love letters! I love that!