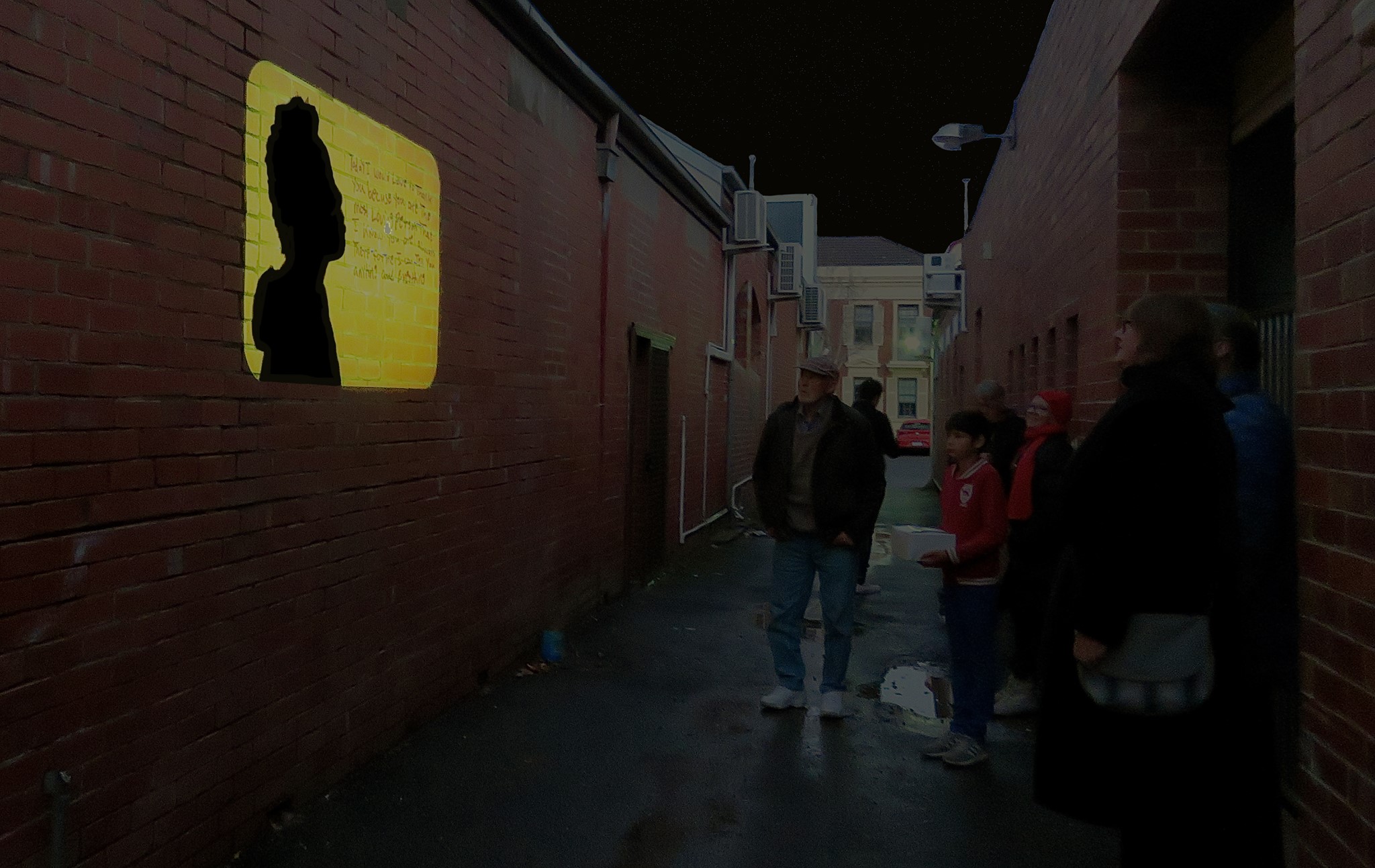 'COMPLIMENTARY LANE' ENLIGHTEN PROJECTION FESTIVAL, BENDIGO 2018
______________________________________________________________________________________________________________________

"So moving, transformative. Smiles from the inside."
"Such a wonderful and important concept."
"What a lovely idea. Felt like a warm hug."
"So humbling. Moved to tears (nice tears!)"
_____________________________________________________________________________________________________________________

Rose Turtle Ertler's Complimentary Caravan is an investigation into the power of words through an

ongoing collection of audio and written compliments collected from different towns.

Step inside the cosy custom-built caravan and bathe in a soundtrack of heartfelt compliments
recorded from your local community.
Relax and enjoy an immersive experience of relentless gratitude and encouragement.

BEYOND THE CARAVAN:
In the last couple of years, I have collected over 1,200 written compliments about someone special in people's lives.

They are all handwritten in black pen on A5 yellow card. Over 400 spoken compliments have also been recorded.
This ongoing collection of written and recorded compliments has other public outcomes besides the Complimentary Caravan.
The project can be tailored to thoughtfully fit a specific event.
Previous examples include:
COMPLIMENTARY COUCH - visitors sink into a comfy couch and listen to a soundtrack of compliments in headphones while browsing
through coffee table books of written compliments. People also write their own compliment which is added
to the books or displayed around the space. (Coburg Carnivale, Moreland Council 2018)
COMPLIMENTARY LANE - video projection work featuring silhouetted heads of locals with their handwritten compliments with a soundtrack
of the spoken compliments.(Enlighten Projection Festival & White Night Bendigo 2018) VIDEO AT TOP OF THIS PAGE
LUFU - a gallery wall piece with soundtrack of local compliments. Written compliments arranged on the wall spelling out the huge
letters 'LUFU' which is the Old English word for 'love'. (Museum of Innocence Mildura Artist Residency 2018)
COMPLIMENTARY COURTYARD - an interactive installation in a courtyard where people listen to a local soundtrack of compliments
and write their own compliment which is then displayed in the space
(City of Port Adelaide - Port Fringe Street Party, Adelaide Fringe Festival 2018)
COMPLIMENTARY LANE - a 30 minute soundtrack of local compliments played on loop mode in a breezeway outside
Pod Artspace (City of Adelaide's Soundscape Program 2018)
A NEW INSTALLATION IDEA:
In the last few years, Rose has collected over 1,300 written compliments on bright yellow A5 cards. She is currently looking for locations to create an installation in 2019 where the
compliments would cover the entire walls and ceiling of an enclosed space, wth yellow shagpile carpet and a soundtrack of local compliments. Any venue suggestions welcome!
FROM DEC 2018, THE COMPLIMENTARY CARAVAN WILL BE BASED IN TASMANIA
AND WILL NOT BE AVAILABLE IN OTHER STATES. OTHER OPTIONS LIKE THOSE
LISTED ABOVE ARE STILL AVAILABLE ON THE MAINLAND.