"so moving, transformative. smiles from the inside."
"such a wonderful and important concept."
"what a lovely idea. felt like a warm hug."
"so humbling. moved to tears (nice tears!)"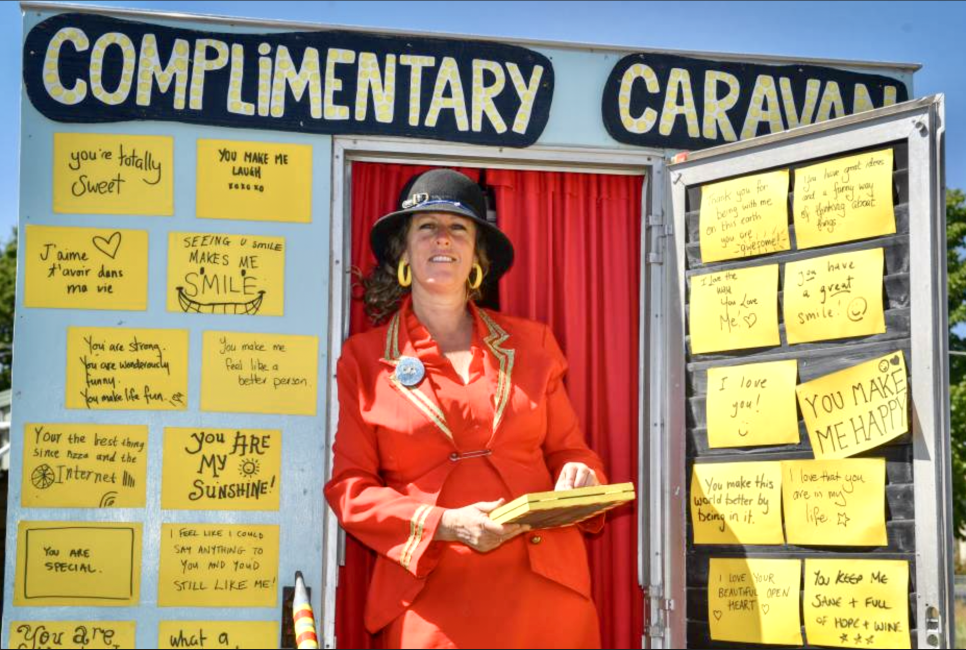 Rose Turtle Ertler's Complimentary Caravan is an investigation into the power of words through an ongoing collection of audio and hand written compliments collected in different towns since June 2016. Step inside a cosy caravan and 'bathe' in a soundtrack of genuine compliments recorded from your local neighbourhood. Relax and enjoy an immersive experience of relentless gratitude and encouragement.
RESTORE YOUR FAITH IN HUMANITY!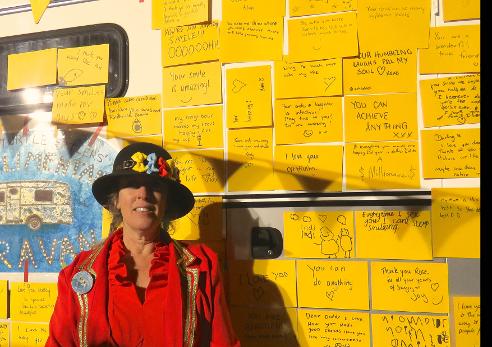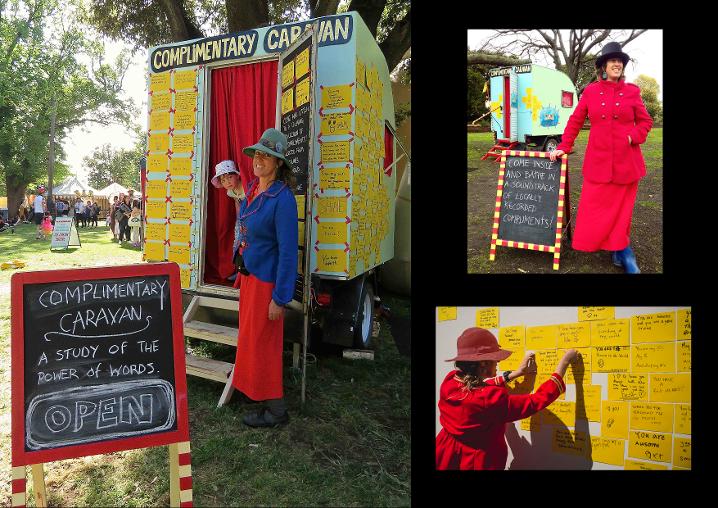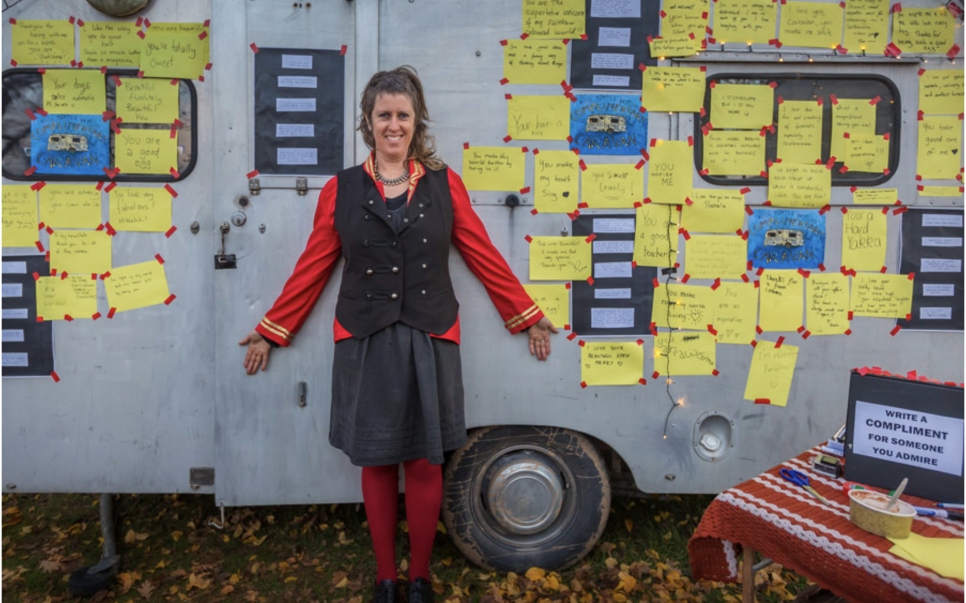 The Complimentary Caravan has appeared at CHArts Festival (Smithton, 2021), Wandaround (Bicheno, 2021), Upstream Festival (Wodonga); Junction Arts Festival (Launceston); Castlemaine Winter Village Festival;
Mental Health Week events (City of Hobart, Bendigo Mall, Clunes Farmers Market, Castlemaine Artists' Market);
Village Festival (Melbourne);
Melton Train Station (World Compliment Day);
Dream Big Festival (Melton);
Maldon Market (intergenerational project); Natimuk Frinj Biennale;
Floriade Fringe Festival (Canberra); Newstead Waterhole Festival.
Other versions (see below) have appeared at City of Port Adelaide (Fringe Festival), Bendigo (Enlighten Projection Festival), Geelong (After Dark Festival), Melbourne (Coburg Carnivale) and in Mildura (Musuem of Innocence)
Photo above from the very first test of Complimentary Caravan at Village Festival in Castlemaine
BEYOND THE CARAVAN:
In the last few years, Rose has collected over 2,000 written compliments about someone special in people's lives. They are all handwritten in black pen on A5 yellow card. Over 600 spoken compliments have also been recorded. This ongoing collection of compliments has other public outcomes besides the caravan. The project can be tailored to thoughtfully fit a specific event. Previous examples include:
COMPLIMENTARY COUCH - Visitors sink into a comfy couch and listen to a soundtrack of compliments in headphones while browsing through coffee table books of written compliments. People also write their own compliment which is added to the books or displayed on washing lines, gradually filling the space. (Coburg Carnivale, Melbourne 2018)
COMPLIMENTARY COURTYARD - A similar idea as the couch, but filling a courtyard (Port Fringe St Party, Adelaide Festival 2018)

COMPLIMENTARY LANE VIDEO - Video projection work featuring silhouetted heads of locals with their handwritten compliments with a soundtrack of spoken compliments (Geelong After Dark Projection Festival 2019 / Enlighten Projection Festival & White Night, Bendigo 2018) SEE VIDEO BELOW
LUFU - a gallery wall piece with soundtrack of local compliments. Written compliments arranged on the wall spelling out the huge letters 'LUFU' which is an Old English word for 'love'. (Museum of Innocence Mildura Artist Residency 2018) SEE VIDEO BELOW
COMPLIMENTARY LANE AUDIO - a 30 minute soundtrack of local compliments played on loop mode in a breezeway outside Pod Artspace (City of Adelaide's Soundscape Program 2018)

The Complimentary Caravan is now based in Tasmania. Other options like those listed above are still possible in the mainland. Please contact Rose if you are interested in this project coming to your town: roseturtle@gmail.com